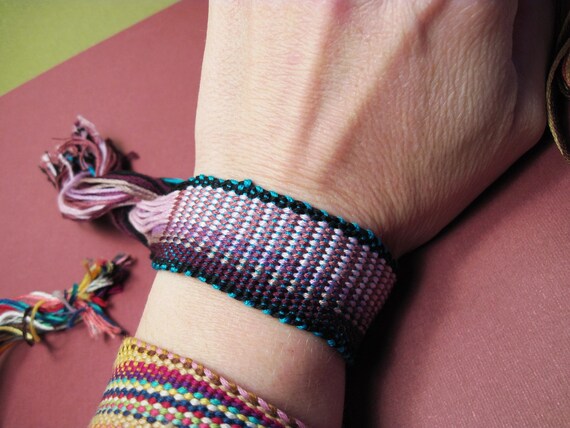 "Sailing" woven friendship bracelet by JDStar
In a world of competition and rivalries, it's good to have people that support you. Connecting with other small business owners isn't just a good way to meet people, it's a great way to network your business and share customers.Tonight, I'm sharing a simple tip:
make friends with your craft community.
Sure, the tip seems easy. Being involved in local craft or Etsy groups (like this one!) is a great way to meet people in your area with similar interests. Non-crafty friends don't always understand the excitement of getting into a good craft show or designing new business cards.. but crafty friends do! But, there are some things to note.
DO
Connect with crafty friends on social media sites like Facebook and Twitter. It's a great way to easily message and get to know people, but like any relationship.. don't be creepy.
Cross-promote businesses! Offer your friend's fans or blog readers a discount on their purchase with discount codes or have them host a giveaway for one of your items. It could open up a whole new customer base.
Support your fellow artists. Just because you aren't vending at a craft fair or being featured at a gallery doesn't mean you shouldn't attend or promote it through social media. Show them you're a fan-- that's what friends are for.
Share resources as you feel comfortable. There's a difference between being friendly and giving away trade secrets.
Build relationships with brick and mortar shops. Become a Facebook fan, follow them on Twitter, shop there, tell your friends about them. If you're consigning with a shop, show them some love! They're not the only one responsible for promoting your items. You need to get the word out.
DON'T
Don't force it. You won't always connect with everyone. Just like with dating, you don't build a relationship on one similarity alone. Be yourself and you'll find like-minded crafters.
Don't let them see you sweat. Rivalries are out there. Ever seen Storage Wars? Although they sure are fun to watch on TV, it's not a cute look in the handmade community. Believe in your business and don't dwell on the haters.. even if they try and send you nasty remarks to bring you down.
Those are the main points to keep in mind when connecting with other crafters. Be social and find some fun people! Check out the
Discussions
in the OkEtsy group-- the perfect way to chat with the rest of the OkEtsy team!
Casey Maute is a contributor to the OkEtsy blog and lives in Stillwater, Oklahoma. She has worked under the name Lollywood from 2008-2010 and recently opened a new Etsy shop called OSO handmade. She loves craft shows, eating from food trucks, finding cool local shops, and working with PR and social media.